Have you followed Slides and Sunshine yet? We're so excited to partner with them on this article!
Christy started Slides and Sunshine as a fantastic resource for Colorado families to find joy outside. She travels throughout the Colorado area with her three daughters looking for the best playgrounds and shares them with her followers.
Here's a list of her 10 favorites in our area:
Colorado is full of amazing parks to visit and enjoy! In our years of creating Slides and Sunshine, my daughters and I have visited over 200 playgrounds across the state looking for the best to share. We can't wait to hear which one you love most!
1. Amber Creek Park – 6745 E 134th Ave, Thornton, CO 80602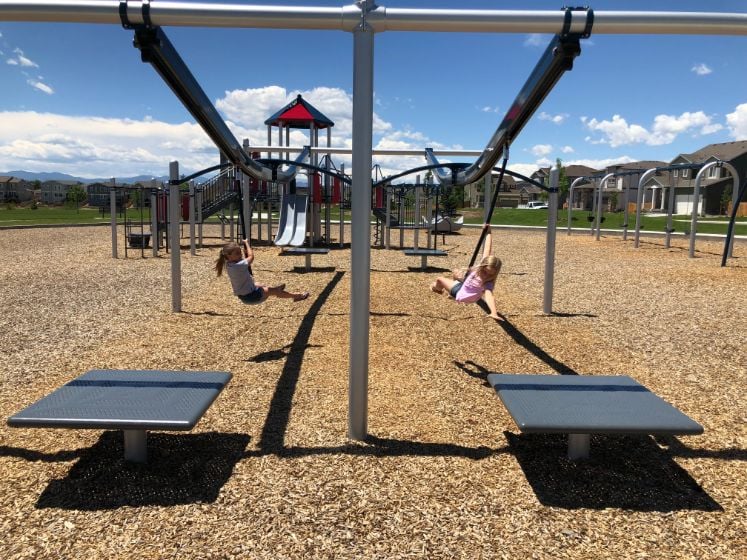 This wonderful playground is located in a new neighborhood with fantastic mountain views. Your children will love the dual ziplines, curved climbing wall, and steep slide! It is a great place to meet friends with its large pavilion and large play area. You can also bring along a basketball, frisbee, kite, and other favorite items to take advantage of the basketball court and large open grass field.
2. Riverwalk Park – 9830 Riverdale Rd, Thornton, CO 80229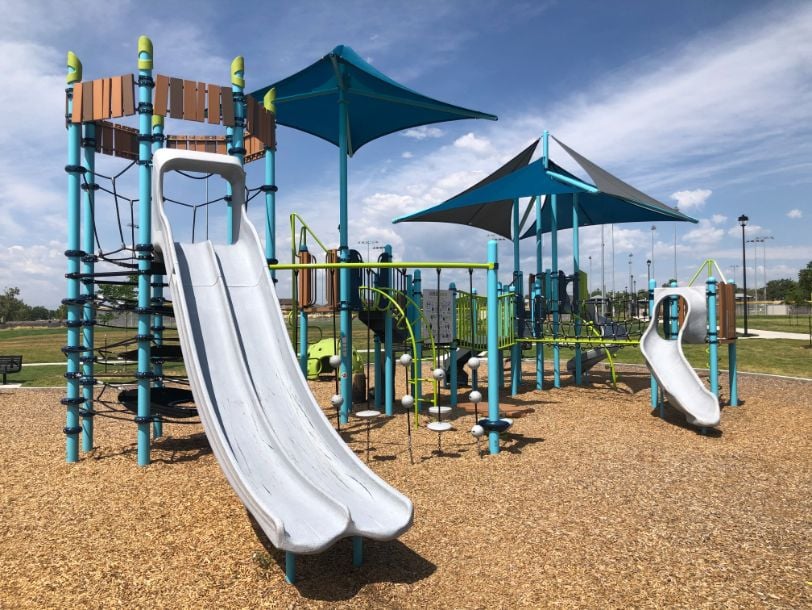 As a 2019 Starburst Award recipient, Riverwalk Park boasts lighted baseball and softball fields, a large pavilion, batting cages, and a new playground. This would be the perfect stop for your older kids to use the batting cages while your younger kids play! The playground has many exciting features with a tall structure to climb, an animal track scavenger hunt, and disc shaped swing.
3. Big Dry Creek Park – 1700 W 128th Ave, Westminster, CO 80234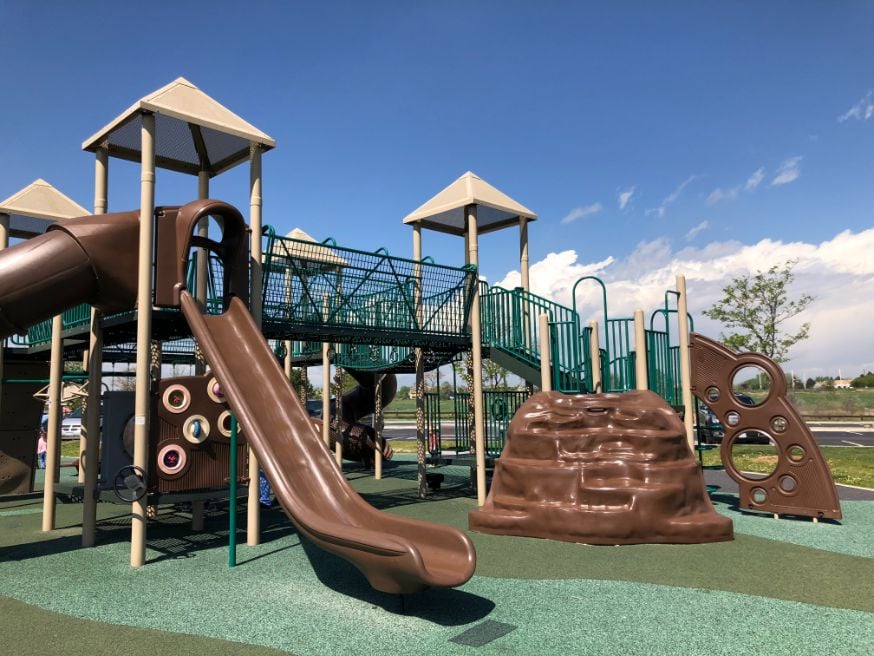 Kids of all ages will love Big Dry Creek Park! I recommend it during the spring/fall versus the heat of summer though because of the lack of shade and hot equipment. There are multiple areas to the park with the most eye-catching being a square-shaped structure with slides, monkey bars, obstacles, and more. Our favorite feature is actually the toddler play structure though because it has monkey bars that preschoolers can actually reach! You will also find a sand area, large seesaw, spinners, and don't forget to bring along your pup to play at the dog park.
4. Northern Lights Park – 13800 York St, Thornton, CO 80241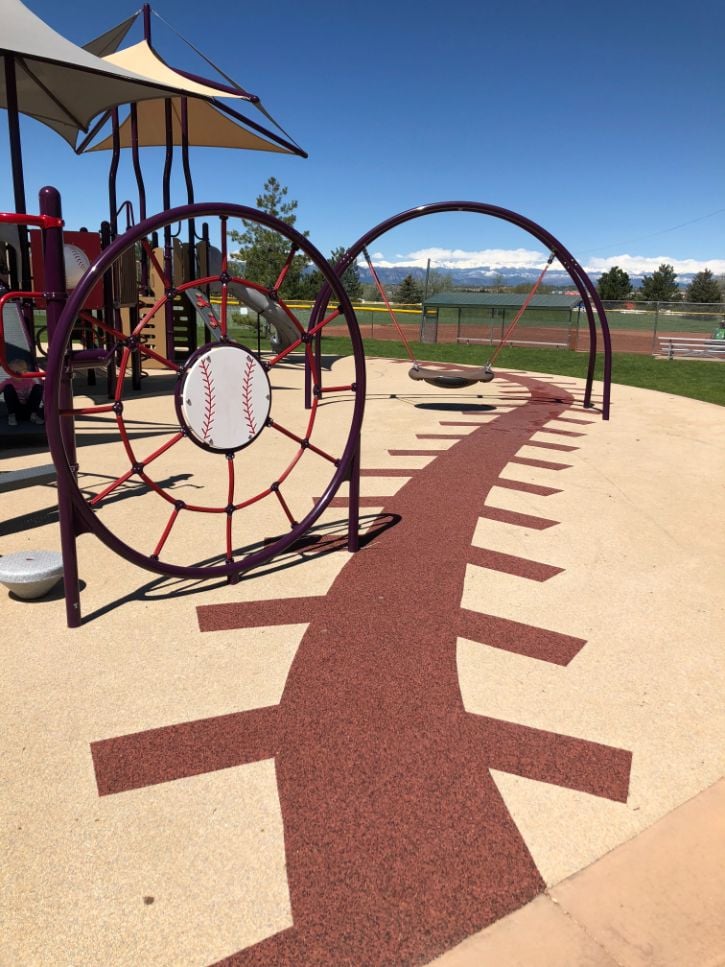 Baseball lovers of Colorado will love Northern Lights Park! There are many baseball fields so be aware that tournament weekends can be quite busy. However, on weekdays or off-season, this playground is a perfect spot to take your children. The baseball-themed, inclusive play area is wonderful with its baseball and glove rubber surfacing, ramp-accessible structure, and ball-shaped spinner.
5. E.B. Rains Park – 11701 Community Center Dr, Northglenn, CO 80233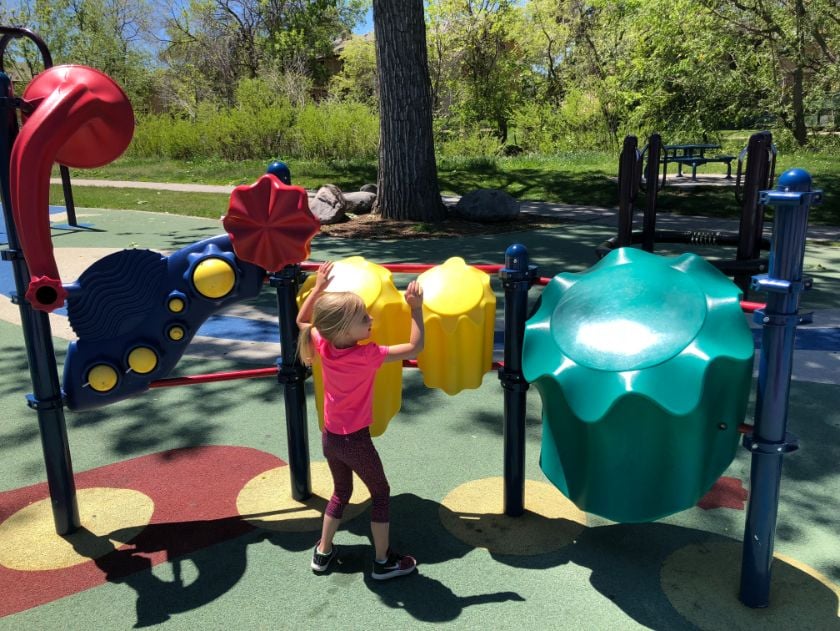 A large play area, skate park, and splash pad can be found at E.B. Rains Park. There is traditional play equipment with one area specifically for ages 2 to 5 and another area with taller slides, monkey bars, and more for older kids. There is also a sandbox, a large boulder to climb, and an expansive inclusive area with sensory elements and musical pieces. You will love the walk around the adjacent lake and there are many places to enjoy a picnic or sit under a shade tree.
6. Cherry Park – 11500 Birch Dr, Thornton, CO 80233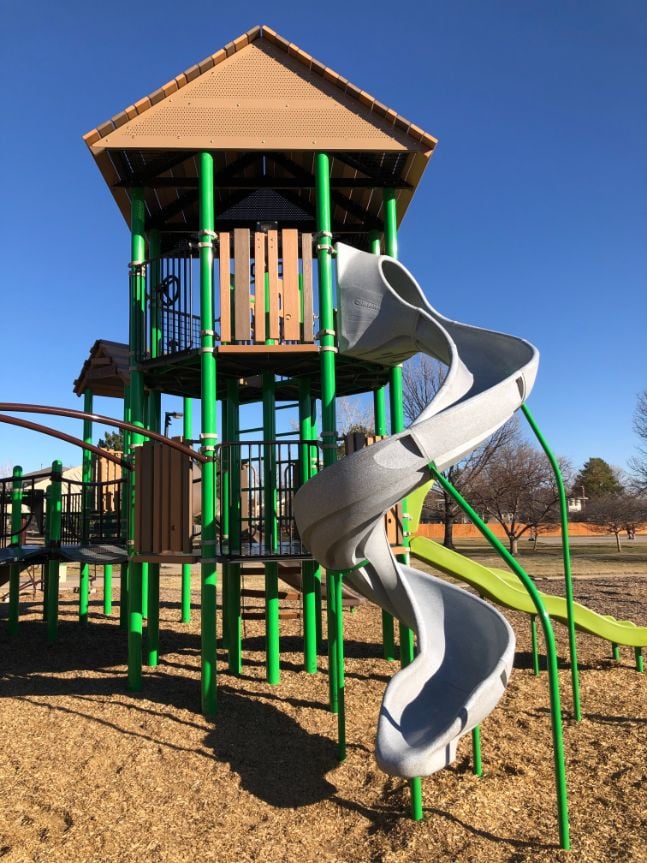 The tall clubhouse-style playground amazed us at Cherry Park! Among the features of the playground are a two-story-high spiral slide, rolling bar slide, and bouncing bridge. My 6-year-old daughter loved the "diggers" in the wood chips and especially the log roller to try running on. A rare find, Cherry Park has a tire swing! It also has two baby swings, two traditional swings, and multiple spinners. Nearby, there is a large grass area, basketball court, and two baseball fields.
7. Westfield Village Park – 11550 Wolff St, Westminster, CO 80031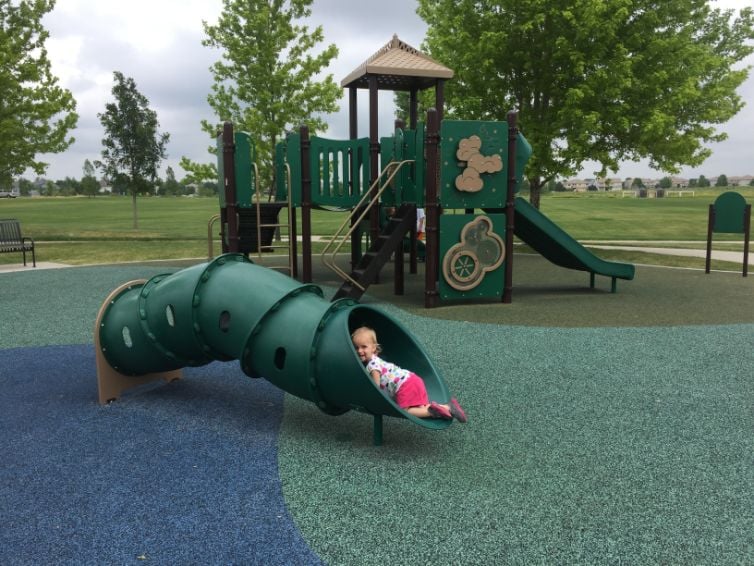 You will love Westfield Village Park for its features for all ages and natural feel. The rubber surfacing makes it easy for all to access the play areas and there is a fantastic spot just for those ages two to five to enjoy. There is a fun climbing wall and bridge separating the toddler area from the larger equipment. The main structure has multiple slides, boulders to use in place of a ladder, and glider to swing across. As with many parks, the pavilion is on the far side of the playground making it tough to keep an eye on all areas so be prepared to find a nice bench in the middle.
8. Carpenter Park – 3498 E 112th Ave, Thornton, CO 80233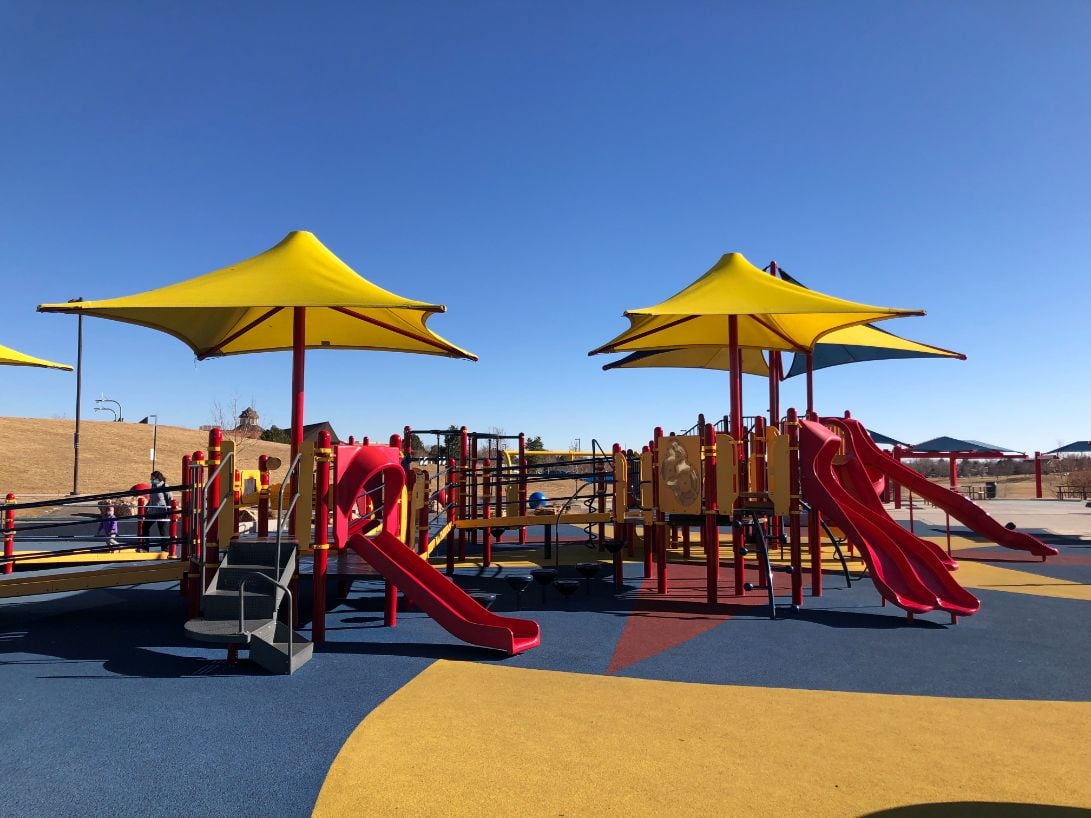 Carpenter Park is like an amusement park with all of its amenities! During the summer, there is a large carousel with beautiful animals to ride, pedal boats to rent on the lake, and a large amphitheater for events and concerts. The inclusive playground is great all year round with ramp access, bright colors and so many different types of equipment. There are multiple styles of climbing walls, obstacles to maneuver through, and many types of swings to enjoy.
9. Larson Park – 10750 Larson Dr, Northglenn, CO 80233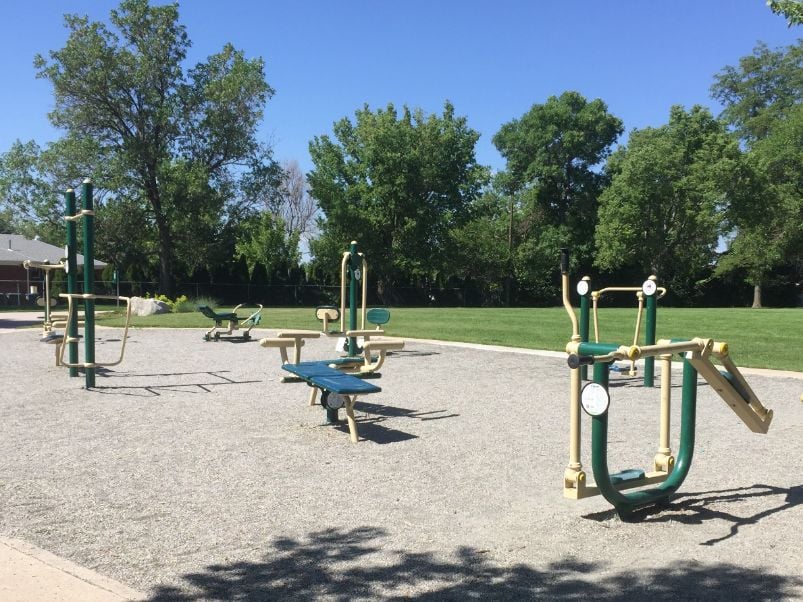 Two reasons to visit Larson Park – it has a fitness area and is dinosaur-themed! There is a variety of equipment in the fitness park, giving you the ability to get in a full-body workout while the kids play. For the younger ages, they'll love the small triceratops to climb on and the jeep to head out on an adventure! There is a traditional play structure with a bumpy slide, climbing feature, and palm trees above. Make sure to try out the "parent and me" swing while you're there!
10. Westminster Center Park – 4801 W 92nd Ave, Westminster, CO 80031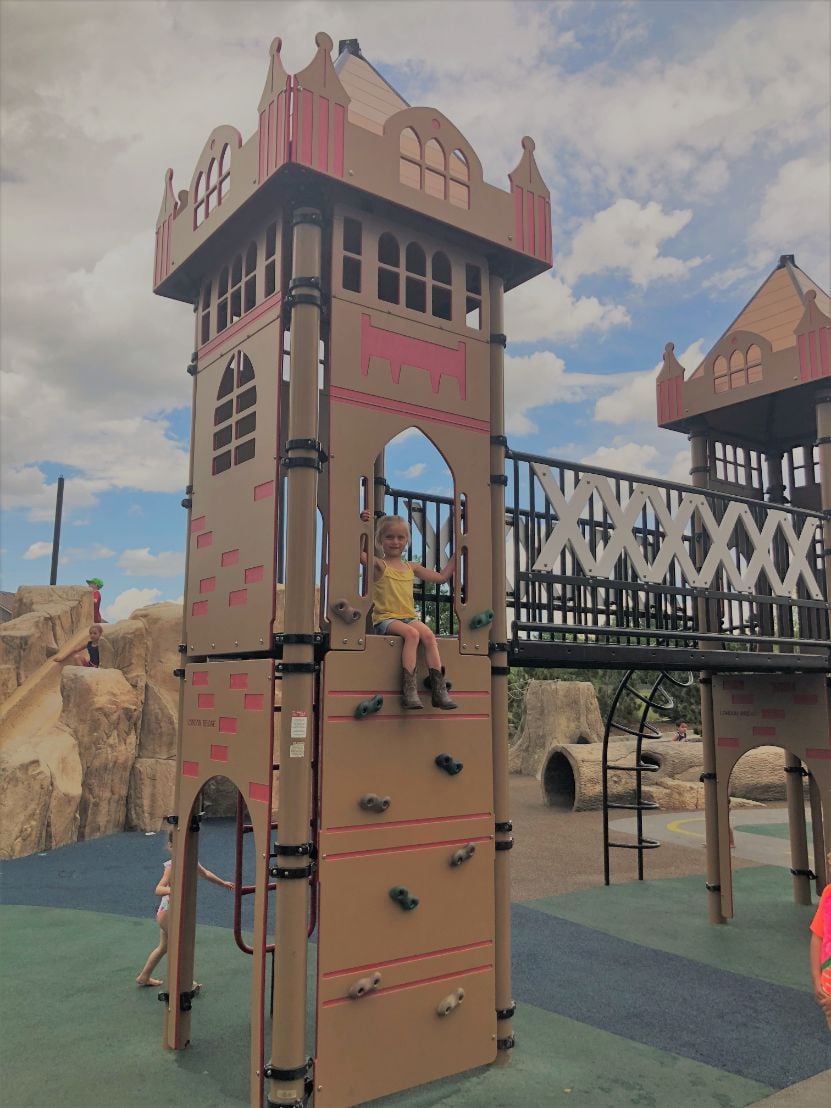 The Westminster Center Park is lovingly known as the "Peter Pan Park" and for good reason. Its London-themed playground, pirate ship, and Peter Pan outline in the window all make you feel like you're about to take a trip to Neverland. Your kids will run from Big Ben to the Tower of London and through the River Thames. There are both fountains and a walking creek so remember to take along swimsuits and towels on those summer days!
About Slides and Sunshine
Christy Schaefer is a Colorado local and travels the state with her three daughters looking for the best playgrounds and kid activities. She created Slides and Sunshine to provide opportunities for children to find joy outside and promote imagination in physical play. By sharing her favorite playgrounds, families are having fun playing together and children are stepping away from screens and becoming more active.
For more details on the parks listed, or additional playground recommendations across Colorado, check out www.slidesandsunshine.com or follow along on Facebook and Instagram. As she always says, now it's time to get out and play!
Want more local family-friendly info like this?